For years, beginners have had to contend with quadcopters that made it a tad difficult to master the art of flying; but thanks to Parrot AR. Drone 2.0, flying a quad is now a breeze. The revolutionary drone has completely done away with the need for a controller; it is entirely controlled using a mobile app compatible with your IOS and smart devices using the FreeFlight app.
Quadcopter Drone App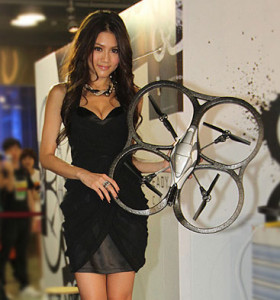 The app lets you customize and fine tune your flying experience including altitude and rotation speeds to some unexpected levels. You might want to start with the slowest and lowest limitations first and gradually trade up as your skills improve – just to be on the safe side…
Speaking of safety, the Parrot team has pulled all stops to ensure your drone as well for your property from damage. The AR drone available in a classic choice of three camouflage styles – jungle, sand, or snow, is shipped with two set of hulls – and indoor and outdoor hull. The indoor hull features foam rings around the blades, but also ensures the safety of a curious pet, and your LED screen while the outdoor hull enhances wind resistance.
Additionally, each set is packaged with a pair of black propellers and a customized set that complements your color scheme.  Classy, sturdy, safe, and easy to handle, now that is a quad worth acquiring.
Buy The Parrot AR Here
Smart Drone
And oh this is especially intriguing, the Parrot AR is the perfect embodiment of a smart drone – it is jam packed with electronic brains that makes it quite a feat for unseasoned pilots (read newbies) to wreck their expensive new toys.
Patented Piloting
A patented piloting mode affords you unsurpassed control over your drone and the innovative pressure sensors lend unmatched stability to the quad regardless of the flying altitude. You might be flying it a foot of the ground and the stability won't waver – but might arouse the curiosity of your cat though.
HD Camera
If you've secretly harbored a dream of being a film director, well, the Parrot AR is at hand to make your dreams come true. Huh? Well, the drone is equipped with a 720 p HD front facing camera that puts you in the pilot seat; in addition to the low resolution downward facing camera that conveniently allows you the 'bird's eye view' shots. The FreeFlight app let you record video footage, switch between cameras and record straight to your smart device.
Video Capabilities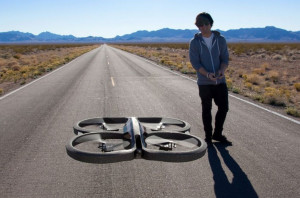 To crown it all, it features a director's mode that enables you to program automatic drone movements and shoot great videos like a movie director. And how to do this you ask?
Just select your preferred actions, adjust your speed and video sequences and fine tune the camera settings – exposure, luminosity – all in real time. You may want to purchase the functionality after your skills are quite refined.
Sensors
The Parrot AR is jam packed with electronic sensors, allowing you to fly intuitively, hover mid-air, and withstand up to 15m/h winds and fly up to 50 metres high – you might want to avoid hitting the upper limits, though. To its credit, the drone lets you show off to your friends with impressive flips and barrel rolls during the impressive 12 minutes flight time.
>> Get the Latest Price on the Parrot AR Here <<
View More Details/Specs & Customer Reviews
Related Parrot Quadcopters:
Parrot Mini Drone Jumping Sumo