Parrot BeBop Drone 14 MP Full HD 1080p Fisheye Camera Quadcopter
The Bebop's looks are a dead giveaway of its function – it is basically a camcorder attached to four rotors and a sizable battery.  A very sophisticated flying camcorder, you might want to note. The front mounted 14-megapixel fisheye camera, capable of 1800 field of view delivers world-class video and image quality.
More Than Just a Fancy Name
Backed by full digital image stabilization and impact resistant foam housing, the camera provides crystal clear footages that are devoid of any distortions each and every time. The footage is automatically recorded on the drones 8 GB onboard memory and transferable to connected device or PC via cable. The quad also lets you share your incredible HD flying experiences directly with your friends over various social media platforms.
Buy The Parrot BeHop Here
HD Camera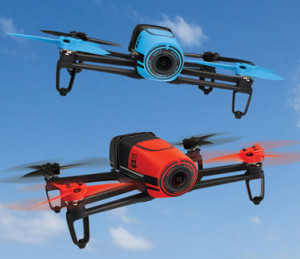 This high flier features an inbuilt 1080p HD camera and an app-based control through smart devices – tablets or smartphones. The smartly designed quad consists of ABS plastic combined with compact impact resistant foam which makes it light and safe to fly indoors. Incredibly, the rotors too can be padded for extra protection while flying indoors in addition to detachable for ease of packing.
The quad is especially well designed and highly visible – a genius stroke – the drone is capable of flying up to 1.2 miles radius on an expanded Wi-Fi range. It features four brushless outrunner motors and 3 axis gimbal stabilization, GNSS location tracking among other sophisticated sensors all packed on a drone that weighs all of 400 grams. The quad is jam packed full of electronic brains including a dual core CPU and quad core GPU that account for seamless flying and control precision.
Easy Flying
The Bebop is controlled entirely through the user-friendly FreeFlight 3 app which allows you an ultra-intuitive flying experience. The app hands you total and utter control of the drone from the piloting, flight plans and video recording capabilities.
The virtual joysticks make for intuitive flying regardless of your flying experience. Taking off is reduced to a touch of a button that switches to a landing button once the drone takes to flight.
There is a dedicated stunts button as well – the video footage captured during the stunts features micro-stabilization and is distortion free as well. Go figure.  Although the drone is quite hardy, it's been found to take a beating without as much as blink, at that price tag.
Extensive Flight Range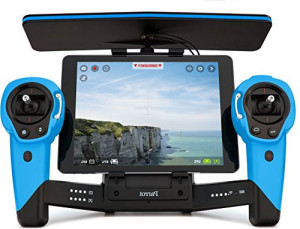 If you are the adventurous kind who needs to milk out the very last iota of pleasure from you flying experience, then you need the sky controller – two joysticks strapped to a frame that allows you to strap on your tablet device.
But that's not all; it comes with super powered Wi-Fi network generator that extends the flight range up to 1.2 miles from the 650 ft possible with the smart devices. It also features hardware controls and dedicated landing and taking off buttons as well as camera controls – among other cool functions.
For an off the charts flying experience, the sky controller allows you to connect virtual reality glasses for an immersive 3-D flying experience.
>> Get the Latest Price on the Parrot BeHop Here <<
View More Details/Specs & Customer Reviews