The jumping sumo is a versatile, smart, (well robot if you may), that is equipped with two large wheels that can be maneuvered to perform incredible tricks. You can pull in the adjustable wheels close to the body for high maneuverability or pull them out for greater stability. These toys are extremely good fun for the entire family and you can even use them spruce up your office breaks. The management might disagree, but don't they ever?!
WIFI, App and More!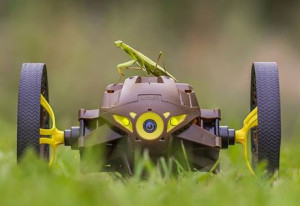 The Jumping Sumo is controlled from your IOS or Android smart device via the FreeFlight 3 app which creates an intuitive flying environment without the need to acquire a remote control device.
The user friendly interface allows you to fully control the Jumping Sumo which creates a Wi-Fi connection to your device and oh, is also compatible with the Windows 8 devices.
This rugged and fast toy features an advanced jumping system that allows it to leap over 2 ft., vertically, as well as horizontally and roll at the break neck speeds of up to 2m/s and perform incredulously fast spins and turns.
Thanks to it's shock proof, yet sturdy design you can continuously roll, jump and spin the Sumo without the need to stop between role changes. Yea, it is that well put together and the number of performance repertoire you can create? Oh, so immense and so creative.
The Sumo is equipped with a gyroscope and an ultra-high speed processor that allows lightning fast and precise control as you walk through your hair spinning moves, fully customizable with flashing LED lights, stickers and sounds.
Buy The Jumping Drone Here
Need to Impress a Crowd?
Program an incredible choreograph different moves featuring different animations and tricks and watch the impressed onlookers pick their jaws off the floor. What's more you can literally watch them pick their jaws from the floor as the front facing, inbuilt camera in the Sumo allows you to record, stream and save your photos and videos to a micro USB or smart device.
More Than a Jumping Drone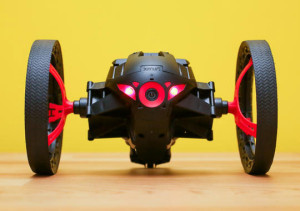 Take over the office floor as your Sumo moves backwards, forwards at different breakneck speeds jumping over any encountered obstacles, without losing a beat. Amazingly, the sumo always land on its wheels and you can preload the springs to anticipate your jumps or select from the 3-presets – kicker, Jumper and Auto balance. Delight you friends and family with the amazing boundless tricks straight from your mobile device. Mischief has never before been this state of the art, cool and harmless.
The jumping Sumo is the ideal modern day clown; the wheels are made of plastic and Styrofoam which makes it all bouncy and features boilerplate tricks that turn it into a real life dancing robots. The superfast spins, turns, spins jumps and jiggle can really be choreographed into a singular, mind blowing and unsurpassed fun experience.
Jumping Sumo Battery Life
And the battery life on this device, well the removable Lithium- Polymer battery is your ticket to 20 minutes of pure, unadulterated, heavenly fun that gets better with each passing day. Getting a Jumping Sumo guarantees super mischievous, fun filled comic reliefs breaks.
>> Get the Latest Price on the Jumping Sumo Drone Here <<
View More Details/Specs & Customer Reviews