The BLADE Nano QX RTF Quadcopter

Caution is always advisable whenever venturing out into the field of quadcopters; there are enough make and models to make your head spin. Not only do they differ in shapes, colors functionalities, and prices; they also differ in their handling capacities.
A Quadcopter Beginner's Paradise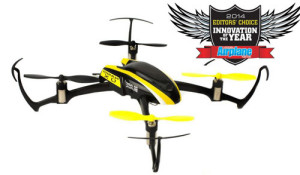 As a beginner, you might want to steer clear of the high-end drones that can literally rain on your drone flying parade – quite literally. You need a drone that will let you explore the intricacies of a quadcopter within a reasonable safety net and most importantly without denting your pockets.
Sound just about right? Well, you are the perfect candidate for a Blade Nano QX beginner quad – designed with the absolute beginner in mind. And how is that?
Buy The Blade Nano Here
Award Winning Quadcopter
In addition to being palm sized and scooping the Editors Choice Innovation of the year Award in 2014, the QX comes ready to fly and equipped with SAFE technology – Sensor Assisted Flight Envelope. Despite the fancy name, they are just a bunch of cutting edge sensors that make it hard to crash the quad, despite your best efforts. The technology helps with the takeoffs and landings – a common beginner sore point. And should you let go of the controls, well the drone just hovers in place, steadily and stably defying gravity – even Isaac Newton would be impressed at this ingenuity.
Quiet, Smooth and Crash Resistant
The quad features inbuilt propellers protectors which in addition to preventing injuries, safeguards during the smooth, exceptionally quiet but powerful indoor flight. Designed for indoor use, this quad is small and ultra-durable. It has been known to bounce off walls and floors without any discernible damage – it does feature additional spares in case you do succeed in breaking one or two. You are a beginner, right?
The most incredible feature of the SAFE technology is it lets you avert crashes in the most unconventional manner – let go of the controls. The quadcopter will just hover in a stable upright position until you are ready to assume control again after composing yourself. Beginner quadcopters don't get better than the Nano Blade QX – get one and prove me right.
Awesome Charging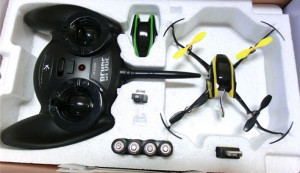 Amazingly this quad features a USB charger hence you can quickly recharge using your laptop or PC in the office. The sleek design and tiny size in addition to the charge on the go capability makes it a perfect travel companion.
You can safely fly it in your hotel room without complaints from hotel management, and most importantly, incurring huge property destruction bill that would ensue in case of larger sized drone.
Lightweight Drone
What's more, the quad which conveniently weighs less than an ounce is made of durable plastic and can be flown in tight spaces – including office cubicles. Did we mention it is exceptionally quiet – never again should you be bored out of your mind in your office. Get a Nano Blade and zoom your way through your breaks.
Agility Mode
This ready to fly quadcopter ships with a 4-in-1 remote controller/sensor unit, which among other functions lets you, after gaining substance expertise, switch to the agility mode. The agility mode allows you the great maneuverability and enables you to incorporate tricks into your flying repertoire.
>> Get the Latest Price on the Blade Nano Here <<
View More Details/Specs & Customer Reviews