Want a beginner drone toy for your child? Check these out.
If your like me, you first heard of quadcopters in the form of a response to the question 'what do you want for your birthday or Christmas?'.
What's important to understand and appreciate is that there is a vast range of quadcopter drones on the market, aimed at all of us, some quadcopter drones for kids, other quadcopters for adults, other quadcopter drones for professionals and other quadcopter drones which are great for women.
You guessed it, today, we will discuss the best quadcopter drones for kids, considered as toy drones but really, they aren't the typical 'toy' as plastic and useless, it's a toy drone that will grow with them.
What are quad copters for kids?
How do they operate drone toys?
How do you know which one to buy?
These are the questions that jam-packed my mind as my son drawled on about his newly found passion as I nodded sagely to his statement, notwithstanding that I understood none of it, this was a few years ago when I had no idea. Infact, I think it was my son that lead me to my own found passion for quadcopters and here we are today.
However, that was then, I am much wiser now and have accumulated quite a cache of knowledge of all things quadcopters.
Based on these factors here are best choices of beginner drones for children, they are durable, pocket-friendly and perfect for fledging beginners. Also, I aim to constantly add to this list but for now, these are the best two you should only concentrate your energy, time and money towards.
Best Quadcopter Drones for Kids
Air Hogs RC Helix X4 Stunt Quad Copter
Product Details:
Product: Air Hogs RC Helix X4

Price: $120 - $150 (Check Price Here)
Models: 2 Available in 2 Colors Here > Model 1 & Model 2 (New)
Sale/Specials: Yes (see above)
Shipping: Free Shipping
Detailed Product Review: Here
The aerodynamics of these beginner quadcopters are amazing, not to mention the great, hovercraft like shape and have been ranked as the best quadcopter for kids.
They are perfect to fly indoors and quite friendly to your furniture, your flat screen TV and even your pets; it is encased in a hard Styrofoam shell, safeguarding against damage to the craft or your possessions. It features a beginner as well as an advanced pilot mode; take it easy as you learn and kick things up a notch up once you know how. And oh, the stunt in the brand name refers to the inbuilt maneuvers; your child will be performing barrel rolls and easy flips in no time; much to the admiration of other kids.
Super maneuverable, incredibly fast are some words of the customers use to describe the gyroscopically stabilized leader in  kids drones with a futuristic design but costs less than $100. Best of all it usable by experts and novices alike, you do not need to buy a different drone after your kid sharpen's their flying skills, just flip the switch and you are in expert mode, a true toy quadcopter that will grow with the ages and ranked the best drone for kids.
Want more information? I currently have an up to date, in depth review including specs and usability of this quadcopter here: Air Hogs RC Helix X4 Stunt Quad Copter
UDI RC Quadcopter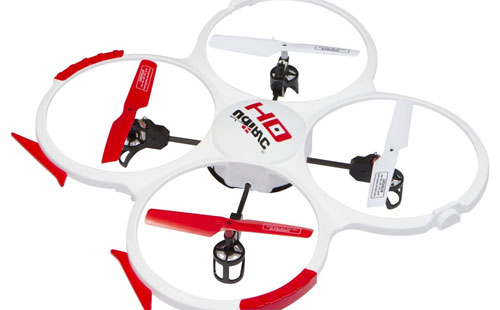 Product Details:
Product: UDI U818A Quadcopter

Price: $100 - $150 (Check Price Here)
Models: 2 Available in 2 Colors Here > Model 1 & Model 2 (Full Pack)

Sale/Specials: Yes (see above)
Shipping: Free Shipping
The UDI U818A Quadcopter is a kids toy drone with camera!
Yes, with unsurpassed reliability, this well-built quadcopter toy is super stable, even when flown by a complete beginner/child courtesy of its 6-axis gyro stabilization system. The exotically designed kids drone features rotor housing preventing damages to the rotors as well as your property in case it crash lands (which may be quite frequent in the hands of your child).
Also in the impressive $100-$150 price range (check price here), this drone features, yes, wait for it, a camera. Start of your quad adventure by recording your journey not just in still pictures but video as well, you might want to replace the 1 GB SD card to record longer footage. It features a modular design that allows you to replace broken parts and can be flown outdoors as well. The intuitive handling control allows for fantastic flips, and the quadcopter boasts up to nine minutes flight time.
So there you have it, just 2 of the best toy drone that you can provide for your child. By the way, I am just testing out the new wltoys quadcopter and will report back on this shortly, stay tuned.
Kids Drones
Here is some more information that may assist you before acquiring a drone for your kids.
Stability – drones with stabilization systems are easier to fly for they can correct their levels while flying giving your child more control – read that as: less crash frequency.
Guards and learner modes – best beginner drones allow you to make adjustments to control sensitivity; the guards protect the rotors from damage during the inevitable collisions.
Spare part availability – of course, it is a vehicle component wear off, settle for a model with ready spare parts.
Place of use - indoors or outdoors?