Is it a bird, is it a plane…….no, it's a DJI Inspire 1 Quadcopter.
Aerial photography has transcended to great heights in the recent past and judging from the spellbinding, breathtaking footage that have been uploaded on the various video sharing platforms; it is easy to get run over in this industry. Not to worry though, with a bit of creativity, and, of course, the right equipment you can be rest assured that you will emerge on top. With, the right equipment, by this, I mean having a quadcopter drone that features state of the art technology, is quite resilient, easy to handle and delivers picture perfect video footage as well as still photographs.
One of the Best Quadcopters to Buy

Of course, when it comes to quadcopter drones don't get better than the DJI Inspire 1 – like the name suggests it was meant to encourage users to fly to greater heights.
In the true fashion of it takes two to tangle, this quadcopter features a dual mode controller; one personflies while the other party controls the camera. In addition to saving you the multitasking headache, you get more professional footage and most importantly; never lose or crash your drone.
Buy The DJI Inspire 1 Here
4K Camera and Video Footage
Getting this amazing craft hands you a powerful 4K camera stock as well as downward facing camera to ensure that you capture spellbinding footage from spectacular angles.
Additionally, the carbon fiber arms lift out of the way to allow unrestricted 3600 camera sweep. And the camera on this quadcopter drone, well, it comprises of 9 spherical lenses for extreme clarity while the Adobe, DNG RAW support hands you're the unsurpassed ability to create a masterpiece from every shot.
The camera not only features the latest in stabilization technology, but it is detachable – easy packing, easy upgrades.
Optional Dual Operator Control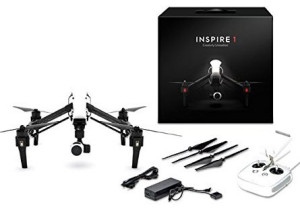 Quadcopters have often been thought of as solo venture that leaves your pals high and dry – watching you have all the fun. Not any more, with this drone, they can join in as well.
Introducing, drum rolls please, the dual operator control. Yeah that's right, you can now let your friends control the camera as you fly the drone, and well that is until they learn how to pilot proficiently.
Imagine the incredible shots you can have when you are not worried about crashing your megaquad. Don't feel like sharing, well that's okay too, the dual control is optional.
Latest Quad-Copter Drone Technology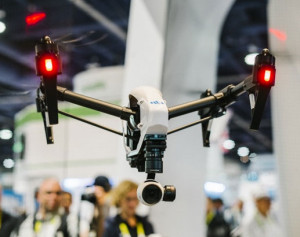 The DJI is not only lightweight and flexible, but features cutting edge stabilization technology making flying this quadcopter drone a breezy affair laden with exceptional picture quality.
The incomparable aerodynamic design not only lets you cut through the stratosphere like a seasoned pro courtesy of the vision positioning system that operates san the GPS, but also ensures longer flight times and makes the unbridled flight life longer.
Hmm… And you thought photography was boring; grab a DJI Inspire 1 drone and experience the difference in the world in HD, even from your smart phone.
Did I mention that the 4K camera is hoisted on a 3-axis gimbal that lets you shoot footage independent of the direction you are flying in? Well, it does that and then some more. It features dedicated buttons for video and photo capture and gimbal control dial…
In summary, the DJI Inspire is the personified model of natural and intuitive flying.
>> Get the Latest Price on the DJI Inspire 1 Here <<
View More Details/Specs & Customer Reviews