Like any great hobby worth pursuing, flying a quadcopter requires a little bit of skill and time to perfect.
And the industry players have gone to great lengths to ensure that your baby quadcopter learnings steps are a fun filled affair by crafting very user friendly quads, the chief of which is the Air Hogs Helix X4 stunt.
Don't let name fool you into thinking otherwise; this quadcopter is incredibly fast, aggressively maneuverable, and very stable – the ideal beginner quad.
Product Details:
Product: Air Hogs RC Helix X4 Stunt Quad Copter 
Price: $120 – $150 (Check Price Here)
Sale/Specials: Yes (see above)
Shipping: Free Shipping
Models: 2 Available
There is a Newer Version/Model of this Quadcopter: Available Here
Like Father, Like Son
Not only is it easy to control, the 4 axis gyro stabilization feature provides a smooth 'turbulence free flying' experience - the gyro stabilization is really just a fancy word that means it has great stability and stays very level while flying.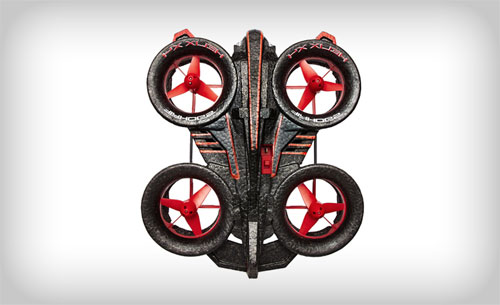 As always, during a learning curve, gravity might not always be your best friend, crashes do happen or your drone might run smack into some object.
Oops! In most cases, that's marks the end of your aerial adventure and may be enough to make you fall off the drone band wagon. But not with this quadcopter. It's super heavy duty and will last a few smacks and punches herd there!
Buy The Air Hog  RC Here (& Get Free Shipping)
Crash Resistant Quadcopter
Well, not in this case, the X4 features a crash resistant Styrofoam exoframe that has been found to take quite a beating and shrug it off with hardly any damage. Being crash proof, in addition to preventing damages to the crucial drone parts, it is crafted to give it a military hover craft look with some incredible durability.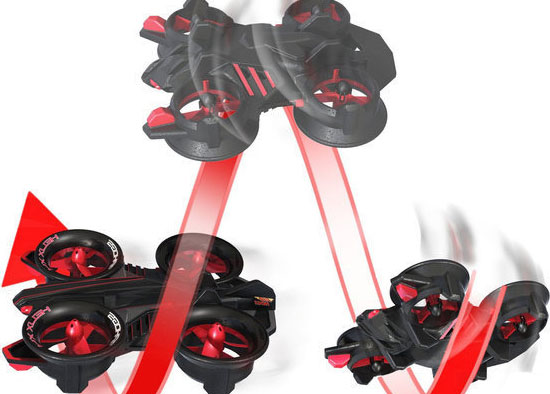 The reinforced body is constructed with 4 high performance true-ducted fans for superior durability resulting in a strong and crash-resistant construction.
Say hello to minimal repairs and additional expenses; it lets you concentrate on your fledging flying skills.
The lightweight frame makes the Helix stunt a perfect, crash resistant, agile indoor quad, which flies quickly around household objects – minimizing damage to the craft and your property as well.
Stunt Quadcopter
The quad utilizes a 2.4 GHz communication remote control allowing you to increase the range of flight and have greater control over the flight paths; making your flying experiences last longer and more exciting.
Talking of exciting, this craft is a stunt master – the remote control features dedicated stunt buttons lets you perform barrel rolls, backflips and 180o flips like a pro – all the touch of a button.
The Helix stunt not only lets you out fly any other drones in your neighborhood, but also lets you out maneuver them as well.
Beginner and Expert Mode
Not only that, this amazing quad features beginner and expert flying modes and thus accommodates pilots of all skills levels. Novice mode lets you easily learn and experiment while providing gyro stabilization, safety nets and other cushy assists.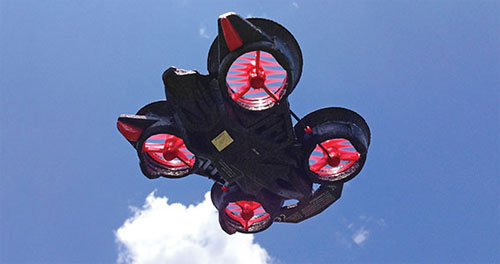 The expert mode grants the confident users the freedom and power to practice pro stunts like figures of eight and circles while mastering the art of flying. This amazing drone is a jam packed box of fun for the family.
Quadcopter Batteries
The 1.9 pounds helix stunt operates on 8 AA batteries and is chargeable through the controller or through a USB cable for quick recharging between flights. The helix stunt welcomes pilots to the future of quadcopter flying with an incredible first time flying experience.
>> Get the Latest Price on the Air Hog RC Here <<
View More Details/Specs & Customer Reviews